Do you need depression counselling? True that depression should never be underestimated. But before you seek online counselling, have you ever wondered what is depression though?
What is Depression?
Every day we hear something or the other related to depression that it is quite confusing as to what will be termed as depression. It is natural to feel sad, lonely or depressed at certain points in our lives. But when it starts hindering your personal growth, that is depression.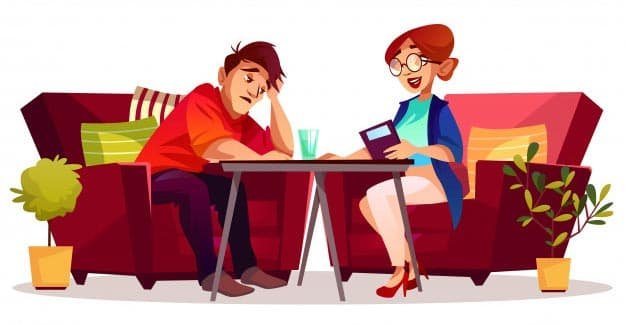 Why you need Depression counselling?
Again then, why do you think you need depression counselling? Before you seek the help of our online counsellors / online therapists, ask a few questions to yourself, and if it ain't of any help, let us tell inform you that we have certified professional counsellors that are available on phone, email and chat. Talk to them at your own convenient time. So, ask yourself if
You feel lonely, empty or sad.
Feel less excited
You take interest in your hobbies
You feel helpless, or worthless
You feel constantly low or high on energy for a period of a few months
You feel tired more often than usual
You feel difficulty focussing
You feel difficulty falling asleep or waking up in the morning.
Do you have thoughts of abandonment issues?
is you need to take depression counselling?
If the answer is 'yes' to any of the above situations or questions, there is a need for some talk. Seek depression counselling. Online Depression counselling will help you talk to someone who is not there to pass judgements but actually help you find a solution With effective therapies like anger management, stress management, online counselling, talk therapy, an online counsellor will listen to you with empathy and expertise and help you deal with your negative thoughts effectively. In short, guiding you towards your personal growth by overcoming negative feelings.
How we help you to heal your depression?
Depression can really take a toll on your health and mental well being. It could go on for weeks or maybe months. Before it gets too late, you should seek the help of an expert therapist, preferably online psychologist so that you can talk to them from the comforts of your home via phone, video call, chat or email. Talk to a depression counsellor online in multiple languages such as Hindi, English, Punjabi, Bengali, Marathi, Urdu, Telugu, Tamil, Malayalam, Gujarati, Kannada and Odia. At OnlineCounselling4U, we keep your identity and information 100% anonymous. Remember, we are always there to help you. Talk to our expert online counsellor and get help today.