Get help 1-On-1, Private & anonymously.
Talk to a psychologist for Online Senior Citizens Depression Counselling
Book Appointment Now 100% Private & Secure
Convenient, 100% anonymous, safe, certified professional counseling online.
Depression in older people is more common than previously thought. In India, as much as one third of the elderly population suffers from depression.
But only a handful of those receive treatment for depression.
The reason is that the symptoms of depression in the elderly are somewhat different from the symptoms of depression in other age groups.
Another reason that depression in older adults is left untreated is that the depression symptoms are mistaken for symptoms of other illnesses.
The symptoms of depression are also confused with the side effects of the medicines used to treat those other illnesses.
Let us have a look at the depression symptoms in the elderly.
Symptoms of depression in Senior Citizens
Insomnia. Insomnia is a sign of depression in the elderly that is often ignored. It is perceived as an 'old age issue'. But this should not happen.

When insomnia is caused due to depression, it should be treated accordingly.

Feeling tired excessively. This is another symptom of depression in senior citizens that is misinterpreted as just another 'old age problem'.

But when an elderly person feels excessively tired, it might be possible for that person to have depression.

Confusion. Confusion is another telltale sign of depression.

An elderly person might be confused about a particular date, about where they are going, what they are doing at a particular moment, etc.

Grumpiness. Grumpiness in an elderly person has become quite common.

But there's a difference between general grumpiness and the grumpiness that is caused by depression.

Only a trained mental health professional would be able to tell that difference. Hence, it is advisable to chat with an online counsellor for advice.

Slow movements. Though slow movements are associated with old age, it can also be a symptom of depression in the elderly.

Declined attention span. A declined attention span is seen in people with depression. The same applies to the elderly as well.

Declining interest in favourite activities. If an elderly person stops participating in their favourite activities, that person might have depression.

It can be something as simple as refraining oneself from going for their daily walks, listening to music, or indulging in some other hobby or interest.

Changes in appetite. An elderly person with clinical depression might start eating much less food than usual.

In some cases, the person with depression might also start eating way more food than their regular portions.

Changes in weight. A sudden drop or gain in the weight of an elderly person is another important symptom of depression.

Feelings of guilt. A person with depression gets plagued by feelings of guilt. The same thing happens to a senior citizen with depression.

Pains that just won't go away. Aches and pains that won't go away even after being treated with medicines and massages are a major sign of depression.

Suicidal thoughts. Getting suicidal thoughts is a very common symptom of depression, even in the elderly. It should never be ignored.

Feelings of worthlessness. One of the many thoughts that an elderly person with depression gets are that they are worthless.

These feelings of worthlessness make their depression get even worse.

Feelings of helplessness. Other symptoms of depression in the elderly are often accompanied by feelings of helplessness.

It can be treated through online counselling.
Senior Citizens Depression Counselling at OnlineCounselling4U
Depression is something that needs immediate attention and treatment. So, book an appointment online with top online counsellors as soon as you can.
OnlineCounselling4U works with some of the best online counsellors in India and abroad. Our online counselling services are available 24/7.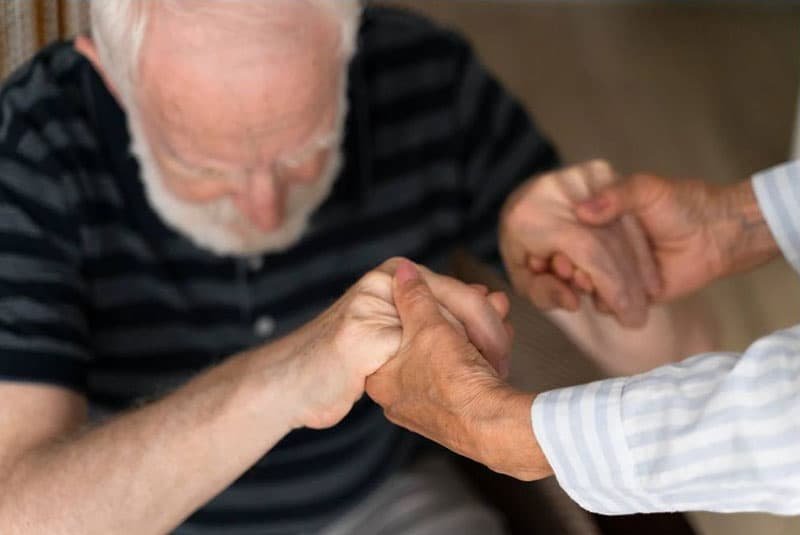 Chat with an online counsellor in a language you prefer from any place that you are comfortable.
Our online counselling sessions are available through phone calls, video calls, chats and emails.